Home >> Site Launch: Register Domain Name
Domain Registration – Select & Make Functional Your Perfect Domain Name.
iPage Web Hosting only $1.99/mo!!
100% Eco Friendly Web Hosting Service -- iPage Web Hosting
Welcome to the Step-2A : Domain Registration.
All those visitors who have reached directly to this page might have found it surprising to know that we have referred to Domain Name Registration as Step-2 and not as Step-1, unlike most other websites. This is because we feel website theme selection and its keyword research is the foremost step in the process of making your own website. The step of domain registration succeeds this step.
So if you have skipped the Step-1, we strongly advocate that you complete the process under it and then come back here again. We can assure you that time spent there will reap rich dividends and the choice of your domain name will attract the search engines like a magnet.
What Is A Domain Name?
A domain name is your unique web address for your website. For example www.steps-to-make-your-own-website.com is the domain name of this website. Without any system to name websites, there would have been total chaos inside the jungle of internet, leave alone trying to locate your website.
With the Domain Name System(DNS) you can create your desired name for your website which when entered into a web browser leads to your website.
Each domain name consists of two parts:
Top Level Domain - A top-level domain (TLD) is the part of the domain name located to the right of the dot. The most common top-level domains are .COM, .NET, and .ORG. Some other popular top-level domains are .BIZ, .INFO, .NAME and .IN etc.
Second Level Domain - The second-level domain name is the part of the domain name located to the left of the dot. Steps-to-make-your-own-website is the second-level domain name and represents the organization or entity behind the internet. Second Level Domain name must be registered with an ICANN (Internet Corporation for Assigned Names and Numbers) -accredited registrar.
To quickly understand more about IP address, DNS, parts of a domain name, subdomain, difference between a domain name and URL, read the following article:
What are the Steps for Domain Registration?
Following are the steps involved in the process of domain registration. We call it a process because what goes in selecting a good domain name and how to make it functional are an integral part of domain registration. You will find a wealth of information in the following topics and we are sure that time invested here will pay you handsomely at later stages.
We strongly recommend that you go through each step and follow every topic discussed so that you have a complete picture about this very important issue of domain registration.
1. Get a general view about domain names.
4. Get your list of desired domain names.
5. Check for the availability of your domain name.
Log in to the website of your chosen domain registrar from the step-3 above. There you will find a window where you can find the availability of your domain name. In the absence of its availability your registrar makes its own suggestions which you may or may not heed to. You can either make a search with another name or modify your original choice while keeping in view the valuable tips as discussed in step-2 above.
6. Select the numbers of years (1 to 10 years) for which you want to register in one go.
7. Fill in the details about your personal information.
8. Select any other value added or free service that you wish to opt for.
One important service that is offered by all registrars, whether paid or free, is WHOIS Privacy. Under this, your private information, which can be misused, is held private by covering it with proxy information, while still retaining full benefits of domain registration.
9. Make payment - Credit card payment or through PayPal account.
Although credit cards are processed on secured sites, yet to be on safer side you can make payments through Paypal too. Setting up a PayPal account is free, easy and quick to setup, and doesn't reveal your credit card info to anyone.
10. Confirm to Register your chosen domain name.
11. If you already have a Webhost – Point Domain Name to Your Website Server.
12. If you have yet not decided about your webhost – Use domain parking.
Who are the Best Domain Registrars?
Want to go shopping to buy domains? How do you know where you will get a fair deal? Do you always go to the cheapest one?
The best domain registrar need not be the cheapest domain registrar. It's not always the cost of a domain name that makes a registrar a good or an average one. Neither does a good sounding name make a registrar a good one.
There are numerous domain registrars and domain resellers that have flooded the domain registration industry. Obviously they all are there for business and sometimes your interest might not be their upmost priority. In such a scenario it is easy to get duped by certain unscrupulous ones.
Below we offer a list of the best domain registrars:
2 - Dotster - Over 10 Years & 1 Million Customers
For price and service features read our: Dotster - Review
3 - Register.com - Get 25% off your entire shopping cart use coupon code : REGISTERSPECIAL25.....applicable through this link only.
For price and service features read our: Register.com - Review
5 - Moniker - Over 2.44 Million Domain Names Under Their Management
For price and service features read our: Moniker - Review
6 - Netfirms - LOWEST priced 1-year .com anywhere
For price and service features read our: Netfirms - Review
Web Hosting Is More Than Just Bandwidth
It's About Success -- Your Success!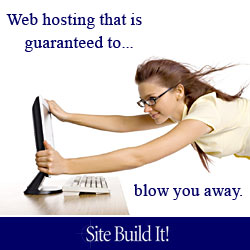 Building a Web Site? You Need to Host it Somewhere... But Where?
You're inundated with Web hosting providers -- the choices can be overwhelming. Promises of cheap, quick, and easy tempt you at every turn. Here's what you need to ask yourself.
Is your goal to build a profitable Web business, or do you want to just "put up a site"?
Regular Web hosting is fine for the latter, but to build a business, you need more.
Think of it...
There are so many Web sites competing with you. How do you make your site stand out and be found at Google and the other Search Engines?
How do you build a professional, popular, and profitable business like these people have?
Build Your Successful Online Business with SBI!
SBI! is a proven step-by-step program that includes everything you need to build, manage and market your online business effectively... and all for under $1 per day.
Domain Registration
You choose your domain name. They register it for you (in your name). One click and you're done. Like everything else, the domain name is included in the price. No third party extra charges.
Web Site Hosting
No need for you to pay for hosting. Top-quality Web hosting and e-mail for a full year are included in Site Build It!. Fast, reliable. Unlimited pages. Unlimited images. Unlimited bandwidth.
Name Park It!
There are four good reasons to use this optional feature to park a domain (planned later use, protection of your main domain, redirects, and "accidental traffic"). The $9.95 per-domain fee includes domain-redirects and unlimited subdomain-redirects.
---
If you find this website useful, please consider helping with its production with a donation.
I'm very grateful for your help.
Go to Top for page on Domain Registration