Home >> Site Concept: Website Themes >> Niche Parameters
Find Profitable Niche
To Remain Healthy in Your Business.
iPage Web Hosting only $1.99/mo!!
100% Eco Friendly Web Hosting Service -- iPage Web Hosting
To Find Profitable Niche Is Conducive To The Good Health of Your Business.
Search for a niche by choosing the most suitable section of the market that is looking for a solution, which your business can provide them with.
When you find a niche your business can then land in one of the three following situations:
1. Yours so called "hot niche" drives your business to a dead end where it fails to find any market.
2. You end up with a difficult niche market that is impenetrable due to very stiff competition.
3. Your niche research pays, and by eliminating competitive ones, rather than battling out with them, you have found and picked the potential hot niche and now your business is a grand success. You have found a profitable niche.
Wouldn't you want the third option to occur for you over and above the other two? Of course, you wouldn't ever want the first two options to ever occur to you with your find of profitable niche.
Search for a profitable niche where you can find your spin or your angle, something that you can win over with your creativity and efforts.
Before you can know about the parameters to find profitable niche, it will be a good idea to review the three steps to find your website theme. For complete information read the article below to fully comprehend the process:
What then are the parameters to find a profitable niche?
What Are The Parameters To Find A Profitable Niche?
The age old demand and supply equilibrium governs the ranking and profitability of a hot niche.
Demand here signifies your targeted traffic – all those people who are searching for your information, service or product either directly or by entering your page specific keywords in a search engine.
Supply is the information, service or the product that your targeted traffic was looking for and that which you and your competition provides, through the pages of your websites.
If the demand is low then your niche market is too narrow. On the contrary if the supply is too big then the niche market is too broad.
Ideally you are looking to find a niche that is high on demand and low on supply which makes it a hot niche for you.
So to find a profitable niche it must stand good on these parameters:
1. Demand

Find profitable niche that has a reasonably good demand. That means a good number of people must be looking for what you have to offer. Does you information, service or product provide for a solution to your traffic's requirement? After all your traffic is not looking for you – they are looking for an solution.

2. Supply

Find a niche that has limited supply. That means you have little competition and you have a profitable niche market that you can win and succeed in by offering quality content that is not available anywhere. Your hot niche attracts the traffic that you are targeting.

3. Passion

Finding a niche will most likely be ruled by your passion for the theme. It is the love for that subject that will enable you to make your hard work look like play and fun and you can over-deliver to your traffic. They will love you for this. And you will thank your stars for your find of a profitable niche.

4. Knowledge

Your knowledge gets reflected in your find for a niche. It will show in the content of your website. If you have mastery on your theme then you can spin the content in a voice that is distinctively YOU! And the traffic at your hot niche is looking just for that.

5. Time Availability

To find a niche you should first look at the level of your time commitment to your website. The size of your niche market will be directly proportional to the amount of time you can devote to make your own website. If you have less time to develop your web business, then it is highly recommended you find another profitable niche that is less competitive and less narrow.

6. Monetization Possibility

These are the possibilities to make an online income through your website niche market. If you don't have a specific product or service to sell then you should look for other monetization possibilities in your find for a niche market, to be able to not just meet your business expenses, but also be able to make a living out of it. Many people find a niche just to make an online income through it - and that is absolutely OK.
A Word of Caution
Don't just let the passion of a theme mislead you while you are looking to find profitable niche. You might be so over awed with your passion that it could blind you from testing your "Hot Niche" more justly on other parameters especially like "demand" and "supply". If your chosen hot niche market fails on any one of the above parameters then it is much wiser to leave your passion on the side and work on something else. Go hunt for and find another niche.
Don't fall into the trap. Go for the best website theme with a hot niche, that you can work on and most importantly something that you can drive your traffic to. Go back to your passions later when you have experience and capital to reinvest.
Build a business website by finding a niche where people would like to come back again and again, not just to check for the information they want, but because they know, you provide them with much more than that.
Go to Top of This Page on Find Profitable Niche
Find Profitable Niche with SBI!'s Brainstorm It! & Niche Choose It!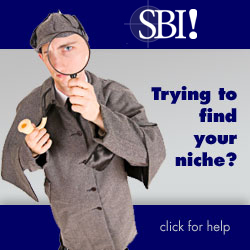 SBI! is the only product that takes the time to prepare you to build a profitable business, before you jump into building your site. For the beginner, your learning curve will be shorter and you'll bypass any show-stopping errors. For those experienced in site-building, SBI! deepens your level of understanding. No matter who you are, you are guided all the way until you succeed.
Brainstorm It! is SBI!'s powerful keyword brainstorming and research tool. It helps you verify that your site concept has acceptable profit potential. SBIers are saved from making that common fatal error. With Brainstorm It!'s help, they know they are on track, right from the start. Brainstorm It! also helps you to find a niche that will pull in traffic and generate income.
Niche Choose It! is your final decision-making tool. It uses a complex decision-matrix theory that makes for YOU finding a niche simple... and flawless. Your can find profitable niche here.
To find profitable niche is not always as obvious as you might think. Brainstorm It! and Niche Choose It! show you the best path for your particular business, reveal some surprises, and help you make the right choice.
New tools are added continuously so you can feel secure that you'll always have the most up-to-date site-building and marketing tools.
---
If you find this website useful, please consider helping with its production with a donation.
I'm very grateful for your help.
Go to Top of This Page on Find Profitable Niche