Home >> Before You Begin: Website Concerns >> Web Experience
Web Experience Is Not A Pre-Condition
To Make Your Own Website!
iPage Web Hosting only $1.99/mo!!
100% Eco Friendly Web Hosting Service -- iPage Web Hosting
Prior experience is not a limiting factor to make your own website. You don't have to be computer savvy. You just have to be computer familiar. Lack of computer experience would not restrict you in launching your own website.
Who else but I am the best person to give you that answer. I had almost nil web experience prior to making this website. My own knowledge of computers stretched only as far as checking e-mails was required. But I kept adding to my knowledge and enhancing my computer experience by learning more and more.
This website has been made absolutely with a layman's knowledge with nil web experience. I keep refining my website as I keep learning.
In today's fast communication world computer experience is not just required but is fast becoming an essentiality. Once you are familiar with the minimal techniques then your own interest will take you to higher levels. So keep learning as and when something needs to be learnt. Whatever knowledge you add will only help you to build better web pages. This will give a tremendous boost to your web experience.
So learn on the go.
And stop making your laptop the victim of your lack of computer experience.
You can always search and find on the internet various tutorials and guides that can give you elementary or advanced knowledge on any subject you wish to.
Since the topic of our discussion is about website experience we will stay focused on it. Time to time I will let you know what software or program you would be required to learn more about and if possible where and how it can be done.
What Minimum Stuff Should I Learn
In Order To Brush Up My Computer Experience?
Knowledge of these few minimum subjects will do wonders to your website experience and definitely help you in building better web pages though lack of it would not restrict you in launching your own website.

These are:

1. HTML – The computer language of websites. If you have to learn just one thing then let that be HTML. Little knowledge of this will go a long way in giving the control of your website right in your own hands. Learn HTML from:
W3schools.com - Learn full web building tutorials including HTML and CSS from the authority itself. And that too all free! You will eventually develop wonderful web experience.
HTML Dog - Quick and easy-to-follow HTML and CSS Tutorials
Learning HTML is very simple. I can even say as simple as cutting through butter with a hot knife. Don't let the heavy jargon (HTML stands for Hyper Text Markup Language) intimidate you. It is pure English put in between some logical steps or "tags" as they call.
Do spend your time in learning HTML to enhance your computer experience and a new vista will be opened for you. Have my word for it!
2. HTML Editor – Once you have learnt HTML or have begun to learn it, the next step that automatically follows is to learn to be able to edit your own HTML coding in a software that supports HTML editing. These are called web page editors.
Some popular web page editors are:
Dreamweaver - A WYSIWYG (What You See Is What You Get) premium product. Highly Recommended and Advised.
Kompozer - An easy-to-use Web Page Editor.
CoffeCup - It's not the name of a coffee shop, but a web page editor that was originally started from a real coffeehouse!
Frontpage - A Microsoft product that comes with their Office suites.
You can find lot of tutorials on the net. One very good source is:
Lynda.com Tutorials - You can learn all the software skills you need to gain a competitive edge with their remarkable online tutorials. A great place to add to your computer experience.
3. Graphics Software - Learn to edit and customize images, logos or any other graphic for your website. We recommend:
Photoshop - A premium product from Adobe. Highly Recommended and Advised.
Paint.NET - It is an image and photo editing software for computers that run on Windows.
Again a very good source for tutorials is:
With practice you become better. As you keep learning, keep refining your website.
To know more about costs involved in making your website read that article:
Website Costs: The "Price" You Have to Pay to Make Your Own Website!.
Leave All Technicalities To SBI! While You Focus On Your Business.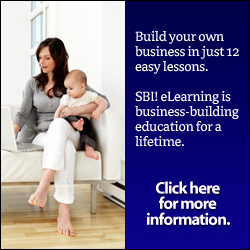 SBI! makes online business success do-able. Anyone can succeed with an all-in-one process, tools, and guidance.

The process is simplified to such a degree that success (i.e., profits, not the mere presence of a Web site) is achievable even for a beginner without much web experience. For an experienced person with ample computer experience, achieving success is even smoother. SBI! really does change lives.

SBI! removes the technical barriers allowing you to keep your attention on building your business. Many functions are completely automated. You don't need to know anything upfront about building a Web site in order to succeed. The tedious, "under-the-hood" stuff is handled automatically so you can focus on other important business-building activities. Your own prior web experience is not a limiting factor.

SBI! is the only product that takes the time to prepare you to build a profitable business, before you jump into building your site. For the beginner, your learning curve will be shorter and you'll bypass any show-stopping errors. For those experienced in site-building, SBI! deepens your level of understanding. No matter who you are and much web experience you have, you are guided all the way until you succeed.
Conclusion
"How To Do It" is not that important. It accounts for only 10% of the efforts required.
"Why To Do It" is more important and takes up 90% of your effort.
"How To Do It" is the technical aspect which can either be learnt or outsourced. But the degree of your burning desire, which can't be outsourced, alone can answer "Why To Do It".
If You Know The "Why" The "How" Can Easily Be Taken Care Of.
---
If you find this website useful, please consider helping with its production with a donation.
I'm very grateful for your help.
Go to Top for page on Web Experience