Home >> Site Launch: Webhost Selection
Web Hosting Service
Choose The Best
iPage Web Hosting only $1.99/mo!!
100% Eco Friendly Web Hosting Service -- iPage Web Hosting
Welcome to the Step-2B : Web Hosting.
Choosing a hosting service is perhaps the only step in the process of making your own website where one feels at a loss of confidence.
With a whole lot of options available for hosting, the task to choose and pick, if not the best one then at least the most appropriate one, can be quite daunting.
Each web host has a number of services on offer and they all cater to various requirements of a webmaster. What separates one from the other is not merely the price factor, but a lot of other criteria too like space, bandwidth, operating system, etc. This slight dose of technical touch seems to make this step an uphill task.
Best Web Hosts
We have prepared lists of best service providers for each type of hosting along with various unlimited and other features offered by them.
Best Budget Web-Hosts
| Top 10 | 11 - 20 | 21 - 30 |
Best Business Web-Hosts
| Top 10 | 11 - 20 |
The best way to tackle this situation is to make an assessment of your own requirements. That is the first thing you have to do. Make a list of your goals with your own website.
Here we give you a detailed list of all the criteria that you must look into before selecting a hosting company.
What Is Web Hosting?
Hosting is the process of putting the content of your website on a computer and making it go "live" on the internet. The service provider is called a web host.
A webhost rents space to you from its state of the art computer server. They have fast and permanent internet connections with which they make your website available to the world wide web. This rented space could exclusively be from a dedicated server or you might be sharing this space with many other websites on the same server.
Web Hosting Selection Guidelines
Choosing a host is an essential pre-requisite for making your website come "live" on the internet. Irrespective of the size of your website, the quantum of your visitors' interaction, or presence or absence of any other complexity, you still need a web host to launch you website and make it available to the world wide web.
Selection of a host is not a complex process though at times it can be quite confusing. This is so because a number of web hosts are offering so many different packages on their menu cards, that it seems to go on endlessly. With fast changing technology and the ignorance of one's own requirements, it can be quite daunting to pick and choose one web host that meets most of one's demands. We have prepared a detailed guideline for selection of a good web host. Read it in the following article:
To check for a specific parameter click the one you want to know about.
Types of Hosting Services
Depending upon the various requirements of webmasters, hosting service providers have designed many hosting packages. All these packages differ from one another not just in terms of price but a number of other parameters too.
Broadly one can categorize all hosting plans to fall into either Free Hosting or in Paid Hosting. Free hosting, as the name indicates is free of cost. Being free it offers the minimum and has limitations in all spheres. To know what these limitations are read the following article:
Paid Hosting is also known as Commercial Hosting. Here one can find a variety of options to choose from, although with a price tag attached. Not all plans are identical. They differ from one another in many technical specifications and hence in also the price that is charged for each. Broadly speaking paid hosting can be divided into Budget Hosting (also called Cheap Hosting) and Premium Hosting.
Best Web Hosts
We have prepared lists of best service providers for each type of hosting along with various unlimited and other features offered by them.
Best Budget Web-Hosts
| Top 10 | 11 - 20 | 21 - 30 |
Best Business Web-Hosts
| Top 10 | 11 - 20 |
What is Budget Hosting?
Budget Hosting is essentially a hosting solution for personal websites and small to medium businesses. All plans under this type of hosting are price sensitive and are usually below $10 per month. These packages are scaled down on features offered so as to make them economical for the webmaster. Web hosts offer budget hosting on shared servers and thus are able to make them cheaper per unit. Don't mistake to believe that since they have "cheap" price tag they will compromise in quality. On the contrary budget hosting is highly competitive where performance can make or break any web host. These are the most popular and sought after hosting plans and create bulk of marketing share for web hosts.
Following are the various types of hosting services that fall under commercial hosting:
1- Shared Hosting
When your website is placed on a server along with other client's websites then that is called Shared Hosting. Your hosting service provider hosts many websites from the same server essentially to bring down the cost per unit and make it economical for hosting. Although many websites share the same server yet they all retain their identity and function properly without any mix up. Shared hosting is the most common and the most popular type amongst webmasters. For further details read the following article:
Most Shared hosts use Linux platform as operating system for their servers. Even Windows is used quite often. Windows Hosting is costlier than Linux Hosting because Windows is proprietary software.
2- Dedicated Hosting
Dedicated Hosting occurs when you are assigned one complete server and you can host one or many of your own websites on it without ever having to share it with other clients. Obviously this one is costlier than shared hosting. Dedicated hosting is good for large commercial websites. Here the owner of the website has all the controls over the operation of the server. For further details read the following article:
Which hosting type is most suitable for you? Read the following article for help:
3- VPS (Virtual Private Server) Hosting
Virtual Private Server Hosting is a package that is in between shared and dedicated hosting. If you want benefits of dedicated hosting yet without going for their full features and don't want to share server space with others then VPS hosting is for you. VPS are virtual machines that have their own disc space, RAM and bandwidth. Your web host gives you control over your VPS and with lesser cost than a fully dedicated server you can manage your website better than in shared hosting. To know more read:
4- Reseller Hosting
Reseller Hosting is basically buying in wholesale and selling in retail. If you buy sufficient space on a server from an original web host and then further resell that space to a number of clients as if in a shared hosting then you can earn the difference. The advantage is that you only have to do the marketing and the maintenance and operations are carried out by the original web host. The technical aspect is looked after by the hosting company. Get more information from this article:
Hosting Is More Than Just Bandwidth
It's About Success -- Your Success!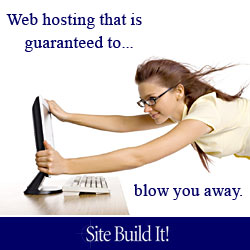 Building a Web Site? You Need to Host it Somewhere... But Where?
You're inundated with hosting providers -- the choices can be overwhelming. Promises of cheap, quick, and easy tempt you at every turn. Here's what you need to ask yourself.
Is your goal to build a profitable Web business, or do you want to just "put up a site"?
Regular hosting is fine for the latter, but to build a business, you need more.
Think of it...
There are so many Web sites competing with you. How do you make your site stand out and be found at Google and the other Search Engines?
How do you build a professional, popular, and profitable business like these people have?
Build Your Successful Online Business with SBI!
SBI! is a proven step-by-step program that includes everything you need to build, manage and market your online business effectively... and all for under $1 per day.
Domain Registration
You choose your domain name. They register it for you (in your name). One click and you're done. Like everything else, the domain name is included in the price. No third party extra charges.
Web Site Hosting
No need for you to pay for hosting. Top-quality hosting and e-mail for a full year are included in Site Build It!. Fast, reliable. Unlimited pages. Unlimited images. Unlimited bandwidth.
Name Park It!
There are four good reasons to use this optional feature to park a domain (planned later use, protection of your main domain, redirects, and "accidental traffic"). The $9.95 per-domain fee includes domain-redirects and unlimited subdomain-redirects.
---
If you find this website useful, please consider helping with its production with a donation.
I'm very grateful for your help.