Home >> Site Concept: Niche Markets
Website Themes Are Your Niche Markets.
Find Your Most Suitable One.
iPage Web Hosting only $1.99/mo!!
100% Eco Friendly Web Hosting Service -- iPage Web Hosting
Website themes selection is one skill that can make all the difference between success and failure.
If you put in lot of effort in a bad theme, then it will lead to poor results, but even putting a small bit of effort into a good solid theme can yield fantastic results.
With the right niche market in place it is like having someone at your side for pushing along the railroad of success. Your late nights start to pay off. Your hard work finally pays off.
With the wrong theme your hard work is slaughtered. You stay up late for naught. Your efforts get wasted and you learn the hard way that it is too much hard work and no fun.
Choosing the right theme is the key to getting a lot of free search engine traffic, also called the organic traffic, which you can monetize in various ways.
It may sound clichéd but this is the most appropriate place to say:
Those who fail to plan they plan to fail.
You can be assured of one thing.
The time spent here is well worth it and will pay you rich dividends later on.
Click to jump to the topics discussed on this page:
So What Are Website Themes?
And, What Is A Niche Market?
A website theme is the central idea or niche, basically a keyword, upon which revolves your website's content. Each page that you build will in some way or the other be related to your niche so as to bond together cohesively to form a wholesome website.
Basically a niche market is a subset of people within a market with a particular interest.
The definition of niche as given by Wikipedia is:
"A niche market is a focused targetable portion (subset) of a market."
Which particular field can be defined as a niche or a market depends on an individual's own perspective.
For example "Health" is a market, and "Weight Loss" can be defined as a niche within this market. But if you look more closely "Weight Loss" is so broad that this by itself can qualify to be a market. Rather "Yoga Exercises" or "Atkins Diet" or something much narrower is more apt to be named as a niche.
Don't get too concerned about definitions. Just find something for which you have passion and something that can find a crowd of people.
It is advised that you spend enough time to identify your most suitable and profitable website theme.
How Do You Find Website Themes?
When you are new you are most likely to get stuck here. Don't feel intimidated.
Searching for a theme is a systematic process and you are doing well till now.
Developing your niche market requires a thorough brainstorming.
You should not end up with too broad a theme that has very large competition which can crush anyone under its own weight. Neither should you waste your effort in pursuing a very narrow theme that has little to nothing demand and hence traffic.
Finding your website themes is a three step process. For complete information read the article below to fully comprehend the process:
What Qualifies To Be A Profitable Website Theme?
These are the parameters to check for profitability of a website business niche.
1. Demand – have a good number of people looking for what you have to offer.
2. Supply – have little competition that is have fewer other websites offering the same information, service or products that you have.
3. Passion – how much you love your site theme?
4. Knowledge – do you have enough command or authority on your subject?
5. Time Availability – how much time can you devote on a daily, weekly or monthly basis to develop and manage your website?
6. Monetization Possibility – does your site offer any possibility to earn from it?
For more information please read the article:
SBI! Brainstorm It! And Niche Choose It!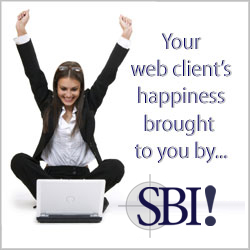 Brainstorm It! is SBI!'s powerful keyword brainstorming and research tool.

It helps you verify that your site concept has acceptable profit potential. SBIers are saved from making that common fatal error. With Brainstorm It!'s help, they know they are on track, right from the start.

Brainstorm It! also helps you to find topics related to your niche that will pull in traffic and generate income.

Niche Choose It! is your final decision-making tool. It uses a complex decision-matrix theory that makes choosing the best niche for YOU simple... and flawless.

Choosing your best site concept is not always as obvious as you might think. Brainstorm It! and Niche Choose It! show you the best path for your particular business, reveal some surprises, and help you make the right choice.
---
If you find this website useful, please consider helping with its production with a donation.
I'm very grateful for your help.